We went to St. George this weekend with the ballroom team and were able to spend most of the weekend with Grandma and Grandpa Pendleton. They even came to our show on Friday night!
Sunday is my free day so I took the liberty of making some yummy treats to take to my Visiting Teachees, our game night tonight and for a late brunch for me and my hubby.
We have about a million ripe bananas in our freezer so I was looking for something a little more interesting than just plain old banana bread (although classic b-bread is always delicious.) I had some fresh blueberries in the fridge and thought this recipe would be perfect. We have some mini loaf pans we got for our wedding so it worked perfectly so I could make 3 small loaves to give away.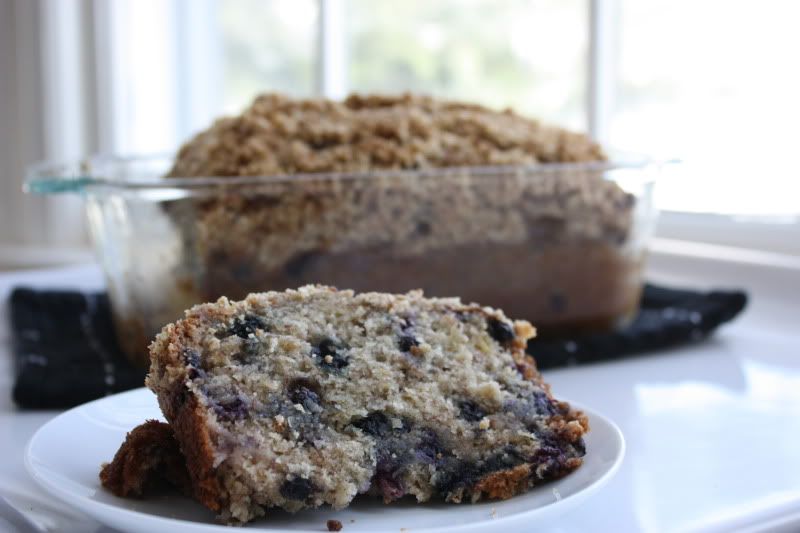 Blueberry banana bread (recipe from
My Recipes
)
Ingredients
1 cup fresh blueberries, rinsed and drained, or frozen blueberries
2 cups plus one tablespoon all-purpose flour
3/4 cup granulated sugar
1 teaspoon baking powder
1/2 teaspoon baking soda
1/2 teaspoon salt
1/2 teaspoon ground cinnamon
1 cup mashed ripe bananas (2 to 3)
1/2 cup low-fat buttermilk
6 tablespoons butter, melted and cooled
1 large egg
Oatmeal Streusel
In a bowl, combine 1/4 cup each all-purpose flour, regular rolled oats, and chopped dried banana chips; 2 tablespoons each firmly packed brown sugar and butter, cut into chunks; and 1/4 teaspoon ground cinnamon. Mix with your fingers until fine crumbs form.
Note - I skipped the chopped dried banana chips.
Preparation
1. Preheat oven to 350°.
2. In a small bowl, gently mix blueberries with 1 tablespoon of the flour.
3. In another bowl, blend remaining 2 cups flour, the sugar, baking powder, baking soda, salt, and cinnamon.
4. In a third, large bowl, whisk bananas, buttermilk, butter, and egg to blend. Stir flour mixture into banana mixture just until evenly moistened; the batter will be stiff. Gently stir in blueberry mixture.
5. Spread batter level in a buttered 5- by 9-inch loaf pan. Sprinkle with oatmeal streusel and press in lightly.
6. Bake bread in preheated oven until a toothpick inserted in the center comes out clean, 60 to 70 minutes.
7. Let bread cool in pan on a rack for 10 minutes, then run a knife around edges to loosen. Invert bread onto a plate, remove pan, and turn over onto rack to cool completely, about 45 minutes.
Nutritional Information
Calories:319 (31% from fat)
Protein:4.8g
Fat:11g (sat 6.8)
Carbohydrate:51g
Fiber:1.8g
Sodium:347mg
Cholesterol:48mg
As a side note: I hardly ever have buttermilk unless I have really planned ahead, so I always substitute by using 1 tsp vinegar to 1 cup of milk and let it sit for 5-10 minutes before adding to recipe. Works great!Adjust amounts accordingly.
LOVE the streusel topping! Adds just the right crunch and sweetness and I love the tart contrast of the blueberries to the sweet, ripe bananas. This almost tasted like delicious coffee cake.
Secondly, Jer and I had some really good cracked wheat bread from Great Harvest we wanted to use so we decided to make french toast with it and I tried a new syrup recipe that is TDF! Jer made the french toast which was delish by the way!
The recipe comes from one of my new cookbooks I got for Christmas. Once again, I used my substitution for buttermilk and it turned out awesome. I swear by that sub! The cookbook is called "Our Best Bites" and is divine.
Buttermilk "Carmel" Syrup
3/4 c. buttermilk
1 1/2 c. sugar
1 stick real butter
2 Tbsp. corn syrup
1 tsp. baking soda
1 tsp. vanilla
Combine buttermilk, sugar, butter, corn syrup, and baking soda in a LARGE pot. Like one you'd make soup in. Yes, you'll have way more pot than ingredients (and I'm not referring to the green leafy stuff), but this will boil all over your newly-cleaned stove if you put it in a smaller saucepan.
Bring ingredients to a boil and reduce heat to low (as long as it's still bubbling, you're okay). Cook, stirring very frequently, for 8-9 minutes. You're basically making candy here and candy-making requires constant vigilance.
Tonight for game night I will be making these:
I'm assuming they will be amazing as long as I can make them right. Update on these to come. :o)